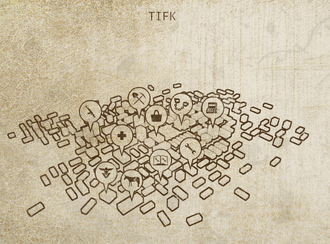 Tifk is the capital of the New Janubi Government and the headquarters of Workforce Merchants. It is located in the Janubi region.
Locations
Edit
Buys and sells a large variety of goods
Produces water, forage, medicine, leather vests, alcohol, trousers, wool, skin, and tallow
Edible produces include lizard meat, lizard egg, insect, jerboa meat, lamb, and sheep milk
Slave Market
Edit
General Store
Edit
Sells weapons, ammo, armor, containers, first aid, tools (Stethoscope, Scalpel), etc
Weapon Store
Edit
Sells weapons, ammo, and attachments
Transport Store
Edit
Sells animals, carts, and vehicles
Heals injured people for 152.00 per point
Does Eye Surgery for 38000.00
Does Upper Limb Surgery for 22800.00
Does Lower Limb Surgery for 30400.00
Veterinary Clinic
Edit
Heals injured animals for 72 per point
Repair Shop
Edit
Repairs damaged carts for 92.50 per point
Repairs damaged vehicles for 259.00 per point
School Of Mechanics
Edit
Trains people for 4300/Day
Workforce Merchants Main Office
Edit
Has Huli Kitsune and Donald Truff inside
Industries
Edit
Town's Industries
Edit
Water Well
Lizard Breeding
Insect Farming
Jerboa Breeding
Pharmaceutics
Leather Vests Production
Alcohol Distillery
Forage Cultivation
Trousers Production
Sheep Breeding
New Industries
Edit
Snake Breeding
Goat Cheese Production
Sheep Cheese Production
Cow Cheese Production
Vests Production
Hat Production
Jackets Production
Tagelmust Production
Shirts Production
Special Characters
Edit
Best place to buy alcohol
Lots of Slaves
Lots of Money
Ad blocker interference detected!
Wikia is a free-to-use site that makes money from advertising. We have a modified experience for viewers using ad blockers

Wikia is not accessible if you've made further modifications. Remove the custom ad blocker rule(s) and the page will load as expected.