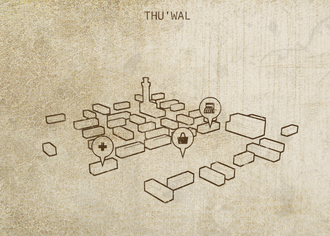 Thu'wal is a town located in the outskirts of the Qubba region alongside the territory of the Federation. Its location can be revealed by reading the Qubba region map.
Buildings
Edit
Buys and sells a large variety of goods
Produces Water, Forage, Wool, Skin, and Tallow
Edible products include Goat Meat, Goat Milk, Lamb, and Sheep Milk
General Store
Edit
Sells containers, tools, and ammo
Heals injured people 164/HP
Performs Upper Limb Surgery for 24600
Performs Lower Limb Surgery for 32800
Industries
Edit
Town's Industries
Edit
Water Well
Forage Cultivation
Goat Breeding
Sheep Breeding
Purchasable Industries
Edit
New Industries
Edit
Goat Cheese Production
Sheep Cheese Production
Ad blocker interference detected!
Wikia is a free-to-use site that makes money from advertising. We have a modified experience for viewers using ad blockers

Wikia is not accessible if you've made further modifications. Remove the custom ad blocker rule(s) and the page will load as expected.