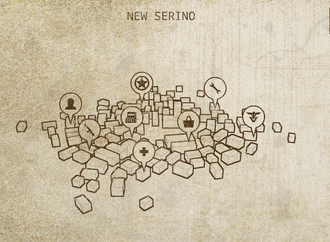 New Serino is a major town that in located in the northeast of the Alkubra region.
Locations
Edit
Buys and sells a large variety of goods.
Produces water, forage, trousers, shirt, medicine, alcohol, lubricant, leather vest, wool, skin, and tallow
Edible produces are insects, jerboa meat, goat meat, goat milk, lamb, and sheep milk
General Store
Edit
Sells Glass bottles, small metal jerry cans, basic and advanced first aid kits, a map of Alkubra(Occasionally), donkeys and carts
Weapon Store
Edit
Heals injured people for 84.00 per point
Does Upper Limb Surgery for 12600.00
Does Lower Limb Surgery for 16800.00
Veterinary Clinic
Edit
Heals injured animals for 40.00 per point
Repair Shop
Edit
Repairs damaged carts for 47.50 per point
Repairs damaged vehicles for 133.00 per point
Marshal's Office
Edit
Remands prisoners and gives reward
Industries
Edit
Town's Industries
Edit
Water Well
Forage Cultivation
Insect Farming
Trousers Production
Shirts Production
Pharmaceutics
Alcohol Distillery
Tallow Lubricant Production
Leather Vests Production
Jerboa Breeding
Goat Breeding
Sheep Breeding
New Industries
Edit
Cotton Processing
Jacket Production
Wool Processing
Lizard Breeding
Snake Breeding
Leather Jackets Production
Special Characters
Edit
Controls the Alkubra region for the Workforce Merchants
Knows the location of Olaf
Leaves if slavery becomes illegal by the Man of Zinc religion
Good place to sell textile
Best place to buy lubricant from in the Alkubra region

Lubricant is bought in most every town in the region in large quantities for a high price
Ad blocker interference detected!
Wikia is a free-to-use site that makes money from advertising. We have a modified experience for viewers using ad blockers

Wikia is not accessible if you've made further modifications. Remove the custom ad blocker rule(s) and the page will load as expected.