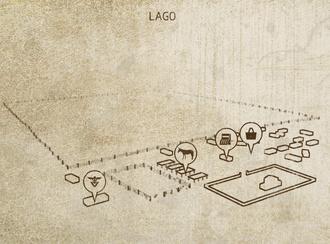 "Lago is basically a ranch and a livestock market, but yeah, it's some sort of a settlement too."
- Captain Mustaparta about Lago
Lago is a settlement in Alkubra and home to Sapoboi Rodrigues. Its market has nothing major for trade aside from having food, water, and forage to resupply. It has a Livestock market and Veterinary clinic. There is also a General store.
Locations
Edit
Buys and sells a large variety of goods
Produces water, forage, wool, skin, and tallow
Edible produces include beef, cow milk, lamb, sheep milk, goat meat, goat milk, cow cheese, and sheep cheese
General Store
Edit
Sells weapons, ammo, and containers
Small Metal Jerrycan (377.52)
Medium Metal Jerrycan (720.72)
Big Metal Jerrycan (1372.80)
Hatchet (686.40)
Machete (439.30)
Cleaver (247.10)
9mm Parabellum FMJ (18.88)
9mm Parabellum LRN (17.16)
Livestock Market
Edit
Sells animals including sheep, goats, donkeys, cows, and occasionally horses.
Veterinary Clinic
Edit
Heals injured animal for 40.00 per point
Industries
Edit
Town's Industries
Edit
Water Well
Forage Cultivation
Cattle Breeding
Sheep Breeding
Goat Breeding
Cow Cheese Production
Sheep Cheese Production
New Industries
Edit
Goat Cheese Production
Shoes Production
Alcohol Distillery
Tagelmust Production
Shirts Production
Special Characters
Edit
Sapoboi Rodrigues
Edit
A wealthy rancher and Narizian. Secretly a cannibal. With the right dialogue choices, buys human meat from the player.
Good place to get high taste food such as beef and cheese
Ad blocker interference detected!
Wikia is a free-to-use site that makes money from advertising. We have a modified experience for viewers using ad blockers

Wikia is not accessible if you've made further modifications. Remove the custom ad blocker rule(s) and the page will load as expected.