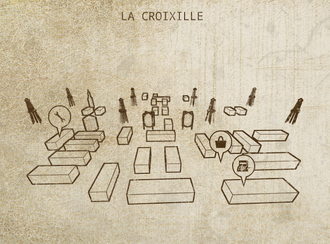 A town in the southern part of the Janubi region.
Locations
Edit
Buys and sells a large variety of goods
Produces water, petroleum, and forage
Edible produces include insects and jerboa meat
General Store
Edit
Sells weapons, ammo, containers, tools, etc
Repair Shop
Edit
Repairs damaged carts for 85.00 per point
Repairs damaged vehicles for 238.00 per point
Industries
Edit
Town's Industries
Edit
Water Well
Oil Drilling
Forage Cultivation
Insect Farming
Jerboa Breeding
New Industries
Edit
Sheep Breeding
Goat Breeding
Cattle Breeding
Lizard Breeding
Snake Breeding
One of the two producers of Petroleum in the Janubi region
Ad blocker interference detected!
Wikia is a free-to-use site that makes money from advertising. We have a modified experience for viewers using ad blockers

Wikia is not accessible if you've made further modifications. Remove the custom ad blocker rule(s) and the page will load as expected.