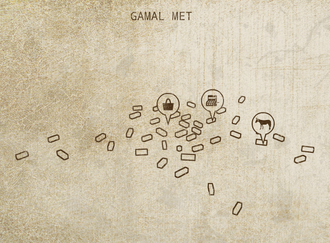 Gamal Met is a town in the Qubba region.
Buildings
Edit
Buys and sells a large variety of goods
Produces Water, Forage, Skin, and Tallow
Edible produces include Beef and Cow Milk
General Store
Edit
Sells containers, grenades and ammo
Transport Store
Edit
Industries
Edit
Town's Industries
Edit
Water Well
Forage Cultivation
Cattle Breeding
Buyable Industries
Edit
New Industries
Edit
Ad blocker interference detected!
Wikia is a free-to-use site that makes money from advertising. We have a modified experience for viewers using ad blockers

Wikia is not accessible if you've made further modifications. Remove the custom ad blocker rule(s) and the page will load as expected.