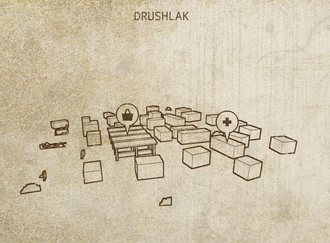 Drushlak is a town in the Qubba region.
Buildings
Edit
Buys and sells a large variety of goods
Produces Water, Forage, and Cotton
Edible products include Insects
Heals injured people for 128/HP
Industries
Edit
Town's Industries
Edit
Water Well
Forage Cultivation (sometimes)
Insect Farming
Buyable Industries
Edit
New Industries
Edit
Sheep Breeding
Wool Processing
Lizard Breeding
Snake Breeding
Forage Cultivation (sometimes)
The Town's Forage Cultivation industry is usually available as a "New Industry." This may be a function of game time. If your first visit is early, you may find that it is owned by the Town. When you visit again later, it may be available as a New Industry.