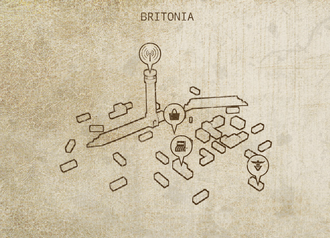 Britonia is a Town located in the western sector of The Federation and is the farthest west of any Federation settlement.
Buildings
Edit
Sells Town-Owned Industry Surpluses

Food, Water, Forage Surplus
General Store
Edit
List of Containers
Glass Bottle
Small Metal Jerry Can
Medium Metal Jerry Can
Metal Barrel
List of Ammunition
.30-06 Springfield BTSP
.303 British FMJ
12 Gauge 1 Buck
40x46mm Grenade M381
40x46 mm Grenade M576
5.56 NATO FMJBT
7.62x39mm FMJ
9mm Parabellum FMJ
9mm Parabellum LRN
Crossbow Bolt Standard
Flamethrower Fuel Standard
M67
M6 Missile HE (High Stock)
Veterinary Clinic
Edit
Heals Animals for 96.00 per Point
Install Transmitter
Edit
Industries
Edit
Town's Industries
Edit
Forage Cultivation
Goat Breeding
Sheep Breeding
Water Well
New Industries
Edit
Goat Cheese Production
Sheep Cheese Production
Location Information
Edit
Unit Spawning
Edit
Nearest Neighbors
Edit
Blondsville (~147.7°, ~313 km)
Gilead (~115.5°, ~433 km)
Kowloonia (~50.8°, ~445 km)
Ad blocker interference detected!
Wikia is a free-to-use site that makes money from advertising. We have a modified experience for viewers using ad blockers

Wikia is not accessible if you've made further modifications. Remove the custom ad blocker rule(s) and the page will load as expected.